Arteries play an important role in our overall health. They deliver oxygen-rich blood from the heart to other parts of the body. When plaque builds up, arteries can become weakened or diseased. Plaque acts as an internal roadblock in the arterial walls- restricting the flow of blood, oxygen & glucose. This "roadblock" causes pain in the leg because muscles and tissues are being starved of oxygen and other essential nutrients.
What Is Arterial Disease?
The arteries and veins are collaboratively known as the vascular system. They work with your heart to ensure that your body's organs & tissues are getting the nutrients they need. Arteries carry oxygenated, nutrient-rich blood away from the heart and deliver it to the body. Veins take used, poorly oxygenated blood back to the heart, where it is cleaned & redistributed by the arteries again. Your body depends on this seamless cycle to cleanse organ tissues of waste and sustain a healthy lifestyle
If these blood vessels are open and clear, blood can flow optimally. However, arteries and veins can weaken or become damaged overtime, making it extremely difficult for them to move blood throughout your body.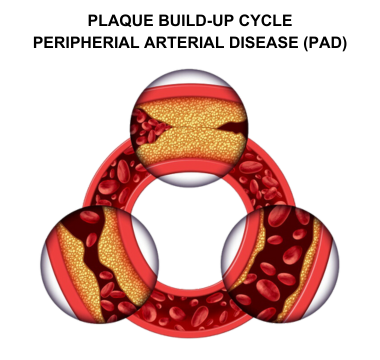 Plaque buildup can create blockages that hinder the arteries from distributing fresh 
blood to your body's organs & tissues. If your tissues aren't receiving the nutrients
they need, arterial disease can develop.
Peripheral arterial disease, for example, occurs when plaque accumulates in the lower extremities. This condition is not only dangerous
and life-threatening, but also extremely common. 1 in 5 patients over the age of 60 suffer from PAD. If left untreated, PAD can lead to
non-healing wounds, gangrene, and limb amputation.
PAD puts patients at risk for serious heart-related health conditions such as heart attack, stroke, and other arterial diseases like
coronary artery disease (CAD)
Arterial Disease Symptoms​​
The symptoms associated with arterial disease can vary depending on which area of the body has been affected.
For example, chest pain is common with arterial conditions like a thoracic aortic aneurysm or coronary artery disease as these conditions occur in the chest.
Leg pain, on the other hand, is typically seen with peripheral arterial disease as this condition occurs in the lower extremities, such as the legs, feet, & ankles. 
Some common symptoms of Peripheral Arterial Disease (PAD) are: 
Cramping in your legs


Weakness or numbness in your legs

Weak pulse in your feet or legs

Restless legs

Loss of hair around the ankles
Numbness or coldness in your feet

Open wounds or ulcers on your feet

Change in the color of your feet

Pain in feet or toes while resting

Slower toenail growth
Common Types Of Artery Disease
Why Monterey Bay Vascular?
At Monterey Bay Vascular, we offer coordinated care to prevent, diagnose, and treat vascular disease.
We understand, everyone deserves to live a long, happy life. Vascular disease may lead to limb loss and other life-threatening conditions such as pulmonary embolism. Our licensed vascular surgeon uses state-of-the-art tools and technology to tackle all problems related to your vascular system. Thanks to our vast wealth of experience, we also work with our patients to develop a unique solution that fits your needs. Contact us today to learn more about the vascular treatments we offer and schedule an appointment today!